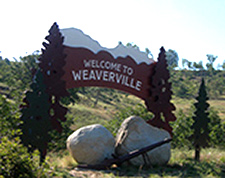 A California trip back in time
Weaverville is located in Northern California in Trinity County. Nestled at the foot of the beautiful Trinity Alps Wilderness, Weaverville has so much outdoor enjoyment to offer along with history of the old West.
Founded in 1850, Weaverville is a historic California Gold Rush town. Weaverville was once home to approximately 2,000 Chinese gold miners, and had its very own Chinatown. A lot of history lives in Weaverville, and the downtown area still proudly displays the old west heritage. The Jake Jackson Museum has a huge collection of items from the days of old, a truly educational experience for all who visit. If you are looking for a great place to spend your vacation, then Weaverville is the place. Historical places, beautiful scenery, great outdoor adventure, a friendly small town atmosphere and much more await you here. Come and visit Weaverville in beautiful Trinity County California!